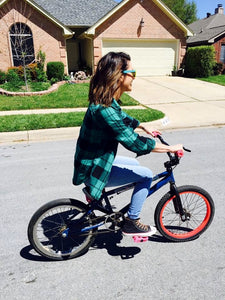 Shhh...Your Clothes Are Talking
Express yourself. Fashion is a statement, not a style. 
Look closely, there are hints of who we are in what we wear and that's why I love fashion so much.
We embrace individuality in our family and I absolutely love how each person interprets different pieces of their wardrobe.  My stepdaughter and I can share clothes now, but she'll style my shirt and jeans in a way that I'd never thought to do!  She rocks a glove on one hand because she grew up listening to MJ's "Thriller" with her dad, and I love that about her. My son doesn't like "handsome shirts" as he calls collared shirts.  It's t-shirts (with no tags) and high tops for him.  We guard our "no"s and the only time I've really had to use mine was when he wanted to express his love for Captain Underpants by wearing his tighty whities and a cape to Mimi's.  That was a "no".
Anyone that knows me knows my "uniform" is Chucks and flannel.  My very first pair of shoes that ever really made me feel like "me" were a pair of Converse high tops.  Each panel of the shoe was a different, bright, vibrant hue of pink, blue and yellow a la Punky Brewster.  I always wanted to wear boy clothes and I HATED dresses.  My mom compromised and sewed me floral jumper pantsuits for Easter (before jumpers were cool).  All of the other girls in my class were wearing saddle oxfords and jellies, and I wanted none of that.  So when I strutted into school on the first day of 3rd grade with those high tops -- my tiny chest puffed, head held high -- I finally felt like "me". 
My hero in 6th grade was a guy that worked with the middle school ministry at our church.  I'd never seen guys in church like him.  He had long, beautiful hair that he wore in a ponytail and his entire wardrobe consisted solely of combat boots, baggy jeans or shorts, flannels and grungy t-shirts.  He had the most beautiful, caring eyes and He loved Jesus and people. I found myself throughout the 90s finding comfort embracing the "grunge" style and I really kind of got frozen in time there.  My comfort outfit, as I mentioned before, still consists of ripped jeans, Chuck Taylors, a flannel and a now mostly-less grungy t-shirt (depending on how much time I had to do laundry). 
Look closely and my outfits will tell you a little about me.  What comes out in my style is different every day. And you do NOT have to have a lot of money to have style.  I love thrifting and bargain shopping myself.  I love re-purposing my outdated clothes.  And I LOVE showing love to my friends without homes who have nothing and still manage to create their own unique style with the roll of a cuff or the styling of a bandana.  
What does your style say about you?  Do you find comfort in sticking to the classics or following the fun fads that roll through? Or do you like to buck the trends and rock something that will stand out in a sea of rompers?  Do you value comfort over couture? Do you like to provoke conversations with your graphic tees? Do you love A-line skirts or bell bottoms because they remind you of your mom?
At the end of the day, they're just clothes right? But since the Garden and the fig leaves, we've all had to wear them.  I personally look forward to the day when I'm handed a bright, white robe at the Gates of Glory and I don't have to budget anymore.  But until then, God gave me the creativity, He gives me the inspiration, He knows every code of the makeup of my DNA, so He gave me my style. 
And it's my own. 
And it's my JOY to help you find yours! 
---